How to download from unknown sources
Uptodown distributes Android apps packaged in APK format. This format, inherited from the JAR format used by Java, is a standard that includes all the files needed to proceed with the installation of an app on any device. You can choose to download them from our official app or use any web browser.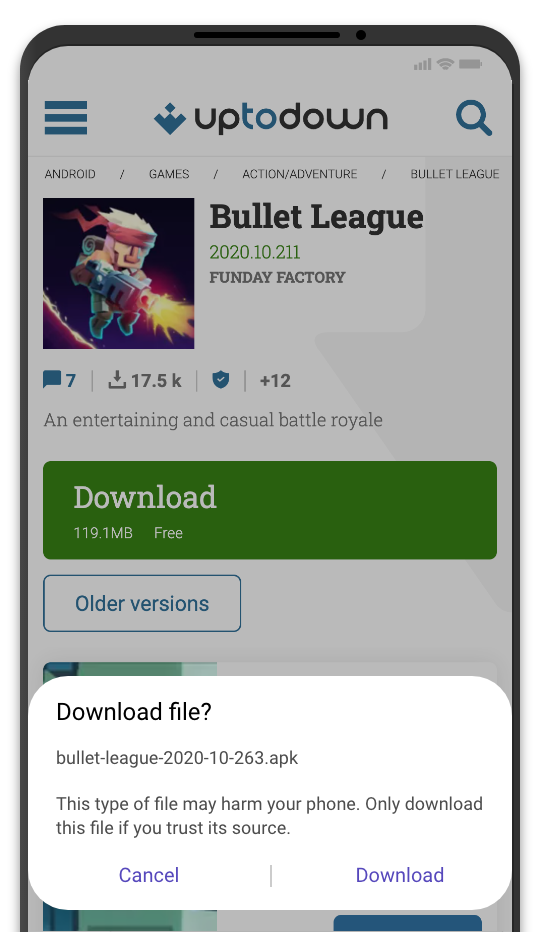 When you first download an APK file via the web, the Android operating system will ask you if you allow it, since this option is disabled by default.
Depending on the manufacturer, a different warning message may appear in the browser itself, although you can also enable it using the Security section within the Settings menu.
Google, as the owner of the Android operating system, displays this message to warn the user when they intend to download apps outside their marketplace, which does not at all mean that there is any risk. All Uptodown files are reviewed by our team of editors and analyzed by the VirusTotal service with more than 70 antiviruses. In fact, we consider ourselves as safe or even safer than Google Play Store itself.
How to install an APK or XAPK files
Uptodown's web version lets you download APKs using any device. However, in certain cases, the files we host have an XAPK extension. This is because the Android standard has evolved over the years and other associated formats such as OBB packages for large files or bundles of apps have appeared over time. The OBB packages divide apps into several APKs, and not just one.
If you're downloading an XAPK file, you won't be able to install it with the default package installer included on your Android. Instead, you need to use a compatible tool. Our official app lets you install these files automatically, without user intervention. Nevertheless, we also have a package installer that's totally independent of our store called APK Installer. The choice is always yours. However, keep this in mind whenever you see the pop-up message next to a download link.